PRF: Easy Ranching Insurance Protection
Pasture, Rangeland, Forage, also called PRF, protects against forage loss on haying or grazing acres because of the lack of rainfall. It helps producers cover their increased costs for irrigation, feed, destocking, depopulating caused by dry periods. A loss payout is owed when the region does not receive enough precipitation within the coverage period.
LOSS OCCURS WITHOUT ENOUGH
PRECIPITATION
Ranchers may receive a loss payout when their area receives below-average rainfall.
AREA-BASED COVERAGE
Pasture, Rangeland, Forage is based on the precipitation in a specific grid. It is not based on how much rainfall occurred on the specific operation.
70-90% coverage election options.
AVAILABLE IN ALL COUNTIES
The program once limited is now offered in every contiguous US county.
LOSS PAYOUT IS AUTOMATIC
No loss adjuster is needed to start the indemnity process. The Risk Management Agency (RMA) automatically calculates any loss and PRM processes the loss payment.
NOT DROUGHT INSURANCE
A drought does not automatically create a loss. It also does not insure against high temperatures or windy conditions.
MUST BE BOUGHT BEFORE 12/1
The Sales Close Date and Acreage Reporting Date is December 1st.
Get a Personalized PRF Quote Today
What is the Rainfall Index?
The rainfall index is how much precipitation an area has received compared to the long-term average historical precipitation an area usually receives. This data is collected and maintained by NOAA's Climate Prediction Center. Each day NOAA uses at least 4 reporting stations to collect precipitation measurements from each grid.
WHEN WILL A LOSS PAYMENT OCCUR?
Payout may trigger if the precipitation is below the average rainfall index at the end of the interval period, dependent on your coverage level selection. Once the rainfall goes over the average Rainfall Index for the period, there is no way to receive a loss payment. The tracking will begin for the rancher at the next interval period.
INTERVAL PERIODS
Intervals are two-month periods you will have coverage for precipitation shortfalls. Producers can select a minimum of two to a maximum of six intervals. No loss payment will be received if the Rainfall Index is low enough to cause a loss on an interval that was not selected. Each of the interval periods will split the total percentage of the payout.
Many insurance policies and FSA programs available to ranchers and farmers sound very similar. Pasture, Rangeland, Forage Insurance (PRF) provides protection outside of the catastrophic weather events that the Livestock Forage Disaster Program (FLP) and Noninsured Crop Disaster Assistance Programs (NAP) do. PRF is an insurance tool to provide additional coverage to a ranching operation. The FSA programs are designed to fill a need during extreme weather events.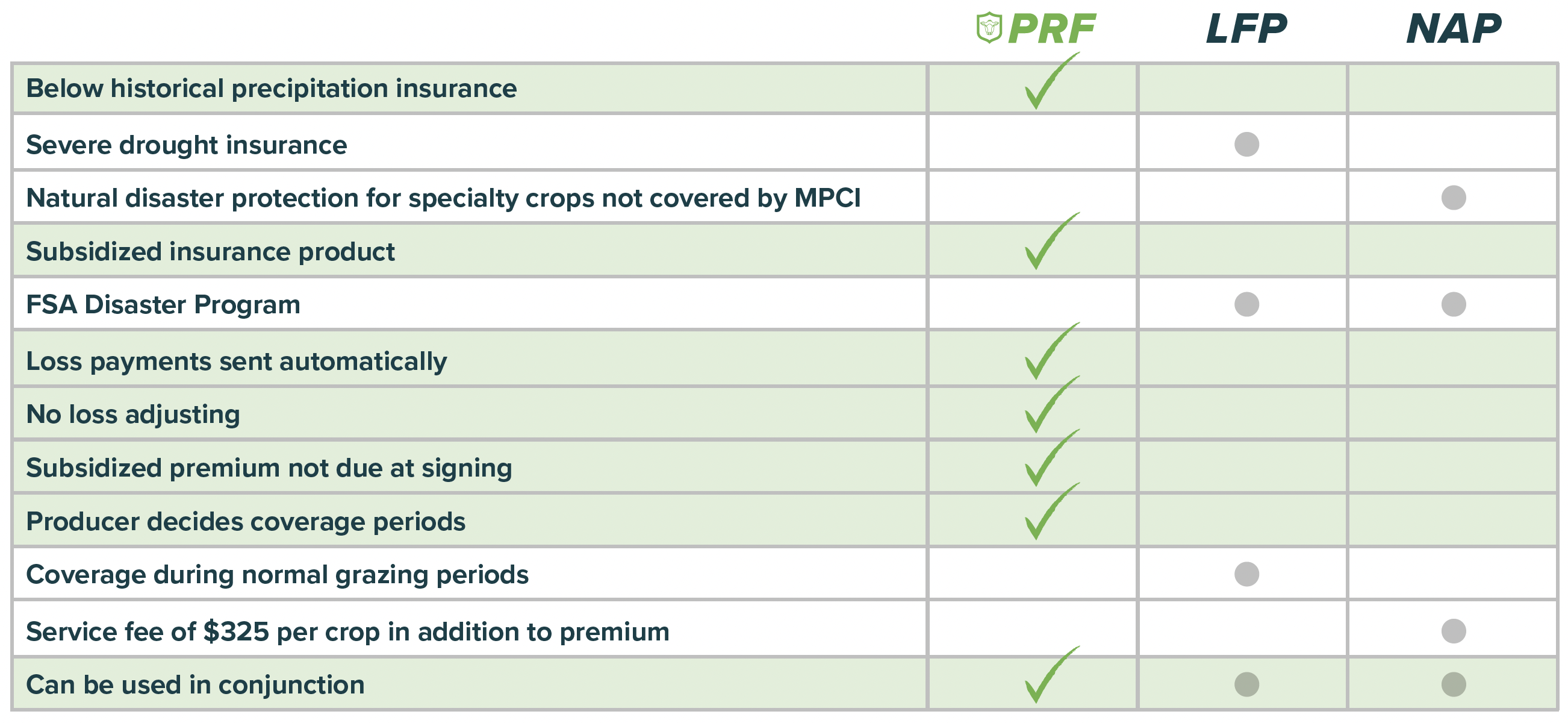 Get a Personalized PRF Quote Today