Trends to Track
Some parts of the country are turning to mud pits while others are completely frozen. Spring is not yet here but the conditions of today will affect the soil temperature and moisture conditions for planting. At planting, these factors directly affect seed germination and the growth of crops. If the soil is too cold, seeds may not germinate or may grow slowly. If the soil is too dry, seeds may not be able to absorb enough moisture to germinate. On the opposite end of the spectrum, if the soil is too wet, seeds can rot before they have a chance to sprout. Meteorologist Lucy Bergemann with PRM explores the soil temperature and moisture, so farmers can get off to a good start and have the best chance for healthy growth and maximum yields.
Key Takeaways
Soil temperatures are in the 20s and low 30s at shallow depths, typical for early February
Snowpack through MN, ND, SD and northern IA remains solidly frozen, and is expected to provide a couple of inches of water equivalent boost when it melts.
We are chipping away at our soil moisture deficits but still behind normal for this time of year heading into the growing season.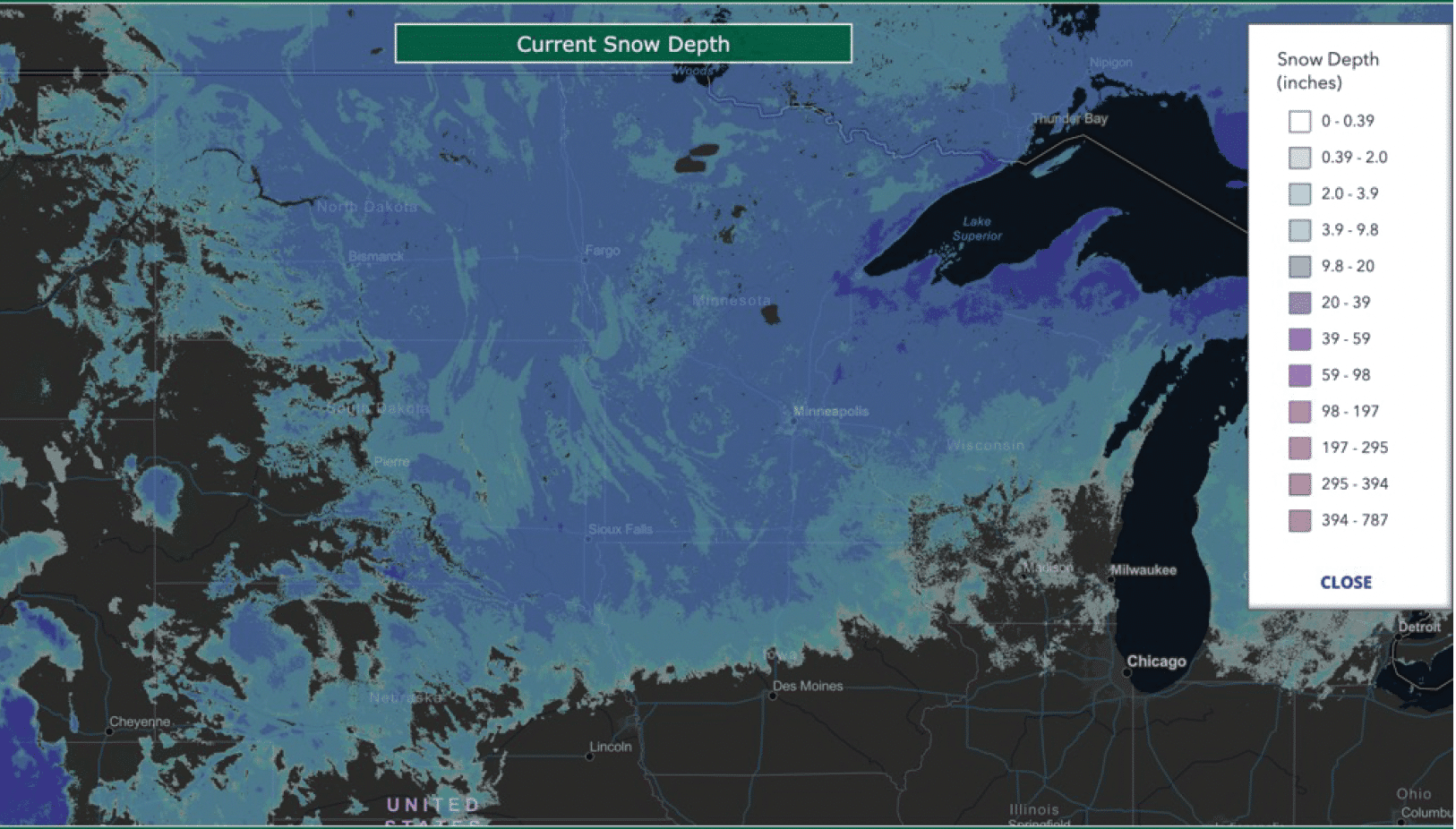 SNOWPACK
Right now through the Upper Midwest (National Weather Service states: MT, ND, SD, MN) we have roughly 70% of the region covered by snow. This is down from 84%
during January, however most of the melt was through eastern Montana and western South Dakota. The snowpack in the Dakotas, Minnesota, and Iowa has temperatures in the upper teens and lower 20s, and over the past 2 weeks (with the exception of far western SD) hasn't shown any melting. Our snow coverage following recent storms in Missouri, Illinois, and southern Iowa has melted more quickly as temperatures have been more moderate through the area.
Soil temperatures are widespread into the upper 20s and low 30s at the 2" depth across the Dakotas, Minnesota, and Iowa, which is to be expected given the season and snowpack over the area.
The snowpack is a decent water resource that as temperatures warm, will melt and contribute to soil moisture content. If we have a healthy snowpack of 8" in the Dakotas as well as Minnesota, once that all melts down, and the ground is able to absorb it, we can anticipate a water equivalent of 1". We have an ongoing deficit of 1.5-2.5" in the region so a healthy snowpack of 12-20" by Spring would be preferred. Right now our snowpack stands at 4-10" across much of the region with higher totals (closer to 15-18" through North Dakota and northern Minnesota).
SOIL MOISTURE
Current Soil Moisture Conditions:
The current soil moisture map shows many spots through MO, IL, MN and SD and in the neutral, abnormally dry or moderate moisture categories. The spots where we have extreme dry soil moisture (at both root and surface levels) are through eastern ND and dotted through central and western IA.
Soil Moisture Compared over the Last Four Months:
At the end of October, we had widespread exceptionally dry soil moisture conditions thanks to a very dry month. Above average precipitation in early winter decreased the soil moisture deficit. The period of December – February is climatologically our driest, so above average moisture through these months gives us a leg up headed into the Spring.
While soil moisture is still dry in many regions, the levels to which the soils are dry at the root and surface are not as extreme compared to fall. Some areas of Illinois, however, are trending backwards, especially into the Southeast portion of the state where in late October we had wetter than average conditions. Now, we are looking at neutral moisture in the same spot. We are working away from the extremes (of both dry & wet soils) of the late fall and early winter.
Soil Moisture Deficit:
Despite the improvements to soil moisture discussed above we are still 2-4" behind in western Iowa and in the 10% percentile for soil moisture – a sign this deficit will take a while to chip away at. It follows that our drought conditions are in the extreme and exceptional categories here. For the Dakotas, MN, MO and IL even though we are behind where we'd like to be, it is not overly drastic.
January Soil Moisture Over the Last 4 Years:
Comparing soil moisture in Jan '23 to the previous 4 years, we can see some general trends through the late winter and early Spring. Compared to last year, soil moisture is similar in North Dakota, but generally drier compared to everywhere else across the region. 2021 and 2020 were categorized by much wetter soil compared to 2023.
When we look at the soil moisture in the Spring months over the 4 year period, we see hints of a pattern. Soils dry out by April, but in mid-May, there was an increase in soil moisture region-wide, thanks to rainstorms and thaw. The only year out of the four (2019, 2020, 2021 and 2022) to get progressively worse through April and May was 2021, especially through the Dakotas.
Summary & Implications into the Spring
Given the La Nina pattern we are currently in, we tend to see cooler than average temperatures through the Dakotas and Minnesota carry through Spring. This could lead to snowpack and frozen ground sticking around a bit deeper into those Spring months. However, individual warm stretches of days can expedite the thaw, regardless of climatological pattern. Of course it is also favorable to have the snowpack melt at a slow rate, allowing the ground to gradually absorb the reservoir of moisture we have in place without becoming mud.

Of course, soil moisture levels for a snapshot in late January/early February don't encompass what could happen through the Spring months in terms of additional snow events or storms bringing heavy rainfall. Repeated Spring rainstorms would be preferred to building the snowpack – as moisture could be immediately
absorbed, but both are important to remove the areas of driest soils.
Bottom Line
We are in much better shape than late October, but our soil moisture deficits show us there is still work to be done, trying to catch up to a normal or "neutral" season before we can start to talk about a surplus.
Precision Risk Management content is only for your general information and use and is not intended to address your particular requirements. In particular, Precision Risk Management content does not constitute any form of advice, recommendation, representation, endorsement or arrangement by Precision Risk Management. Your use of the web pages provided by Precision Risk Management is at your sole risk. The web site and all data contained within it are provided on as 'as is' and 'as available' basis and services and data maybe withdrawn at any time and without notice. Precision Risk Management does not provide any warranties of any kind. We will not be liable to you for loss of actual or anticipated profits or savings, loss of business, loss of opportunity, loss or spoiling of data, loss of contracts, or for any indirect or consequential loss, whether arising from negligence, or breach of contract, or in any other way, even if we were advised of, or knew of the likelihood of, that loss or type of loss arising. Any information on Precision Risk Management that is categorized as "current" or "real time" may not be out of date by the time you access it and the data is not validated for accuracy.